DVSA Training and Assessment. Did you know that you have the whole year (April to March) to complete it?
In fact 2 of our testers have already completed and passed their Assessment for next year!
Why put yourself through that end of year pressure when you can make a start on your 3 hours of DVSA Training and Assessment today?
find out more about our training
Benefits of completing your DVSA Training & Assessment early with MOT Juice:
You save time by having your Exams, DVSA training AND your RAG score all in one place…
You save hassle as everything is automatically recorded, no more tedious filing…
You save money by saving time and hassle…
Your MOT Annual Assessment and Training Modules are all online and available 24/7 on any device.
It is easy to use even for computer beginners.
15 minute modules make three hours training an achievable task.
No more mind-numbing filing. Automatically store all training and exam records in our secure online system.
Never fear a visit from the VE again! All documents are automatically stored and easily printable for when he walks in the door.
You can enjoy a relaxing, stress-free March!
your MOT training & assessment bundle – £69.99 +vat
We know that you may not be thinking about next year's training (2019/20) just yet, however, by taking advantage of our FREE training modules below you can get a taster of our system before that end of year rush.
How do I access my FREE Training Modules?
Simply click on the button above and click login
The available training modules are on the right hand side of the screen highlighted in yellow
Once you've decided which module you'd like to take, click on 'Take Training Module'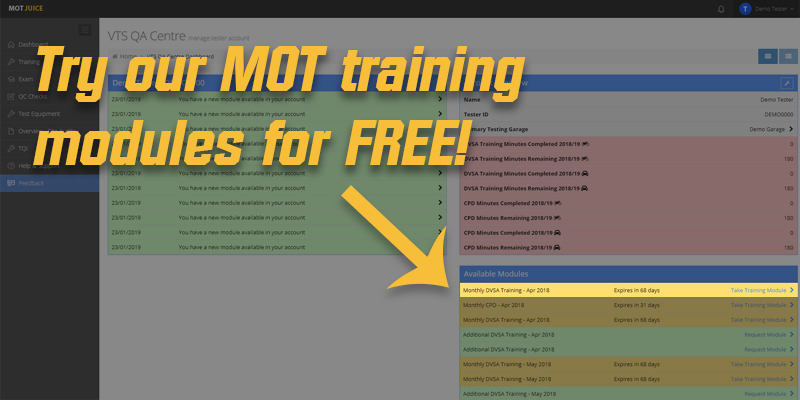 Need to talk to a human for more information? Lines open Mon-Fri 9-5 on:
01293 911120
We also want to say a big thank you to everyone you purchased their exam or training with us for the last curriculum year (2018/19). We've seen some fantastic results over the past few months, including a tester who passed his assessment with 100% in under 10 minutes!
Congratulations everyone, here's to another year!
Please follow and like us: