How To Prepare For The Inevitable DVSA Site Visit
Barry Babister from MOT Juice provides guidance on how you should prepare for the inevitable DVSA site visit.
Barry is a director at MOT Juice and at CCM Garages which own and operate 5 mot bays.
Every MOT bay is required to retain and maintain a bunch of mandatory miscellaneous equipment.
First, let's get the words from The MOT Testing Guide 6th Edition which is current from February 2018.
5.6 Miscellaneous Equipment
– A tyre tread depth gauge selected from the DVSA's latest List of Acceptable Equipment
– Corrosion assessment tool
– Suitable pinch bars, long and short (n/a class 1 & 2)
– A steel tape measure (min extended length 1.0m)
– Suitable wheel chocks for the classes of vehicle tested (n/a class 1 & 2)
– Brake pedal application device from the DVSA's latest List of Acceptable Equipment (only for ATL & OPTL bays)
– Suitably positioned mirrors or a colour camera system for lighting checks (only for ATL & OPTL bays)
– A suitable hand-held low voltage inspection lamp
– A 13-pin trailer socket test tool from the DVSA's latest List of Acceptable Equipment
– A proprietary leak detection spray which meets BS EN 14291:2004 (n/a class 1 & 2)
In our experience, the tools are somewhere in the MOT bays but no one is ever quite sure exactly where they are and if they are all really present at the precise time that a Vehicle Examiner asks to see them all.
Here is the guidance given by the DVSA to a Vehicle Examiner who calls at your VTS:
4.19 Garage Hand Tool Management (VTS)
Are the garage hand tools and workshop equipment stored in a systematic fashion?
Look for evidence that equipment and tools stored tidily and in a readily accessible manner when not in use in appropriate storage facilities e.g. toolboxes, racking and/or shadow boards used, tool retention is monitored.
The last 4 words of the above paragraph 'tool retention is monitored' are important as a Vehicle Examiner would prefer to see a monthly site audit that cross checks the tools that were available and in good working order, then in line with DVSA guidance there should be a system for alerting any missing tools and noting when they are replaced.
Remember if the VE finds that your tools are not present he will increase your VTS risk score, and you may fall foul of incorrect test methods too as without the correct tools not all testable items can always be tested.
Whilst we are on the subject of mandatory tools, don't forget to calibrate that tyre tread depth gauge and record the calibration, for best practice do it every month and for basic compliance every 6 months – remember that testing with an un-calibrated piece of mandatory equipment attracts serious penalty points, as the points can be applied to each individual MOT test carried out with that piece of equipment since its last calibration date expired.
If you don't fancy building your own site audit system then why not try a free demo of the MOT Juice system as it covers all this and more.
Resources
If you would like a simple reminder poster and checklist to put in your mot bay then click the buttons below. There is a choice of two lists, one which can be used as a check list and one that can be used as a memory jogger.
Misc Equipment Reminder Poster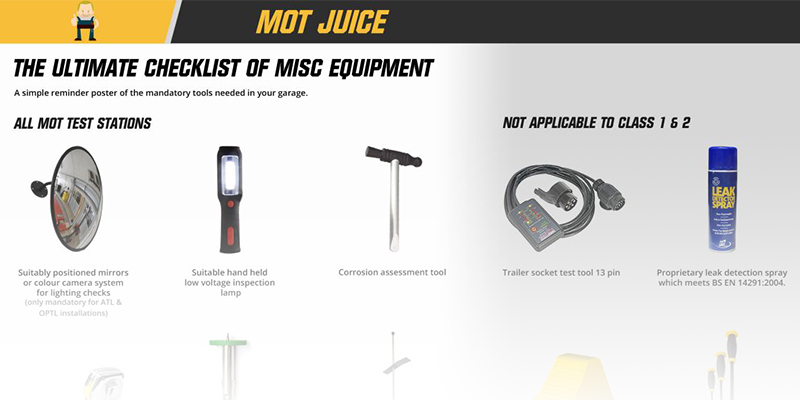 simple misc equipment reminder poster
The Ultimate Checklist Of Misc Equipment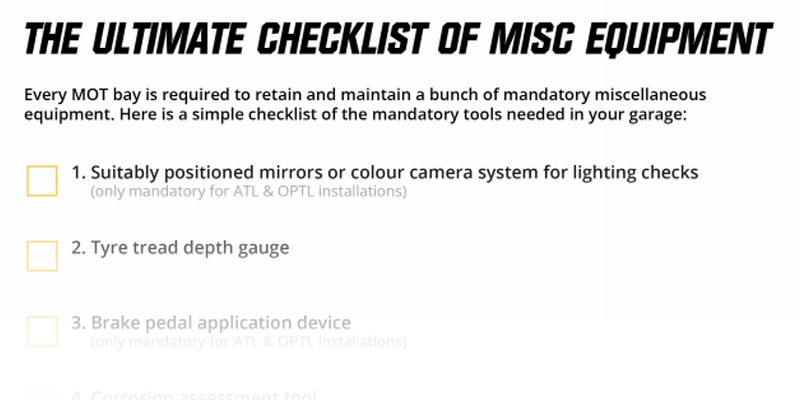 the ultimate checklist of misc equipment
Need to talk to a human for more information? Lines open Mon-Fri 9-5 on:
01293 911120