Ever Wondered How Some MOT Testers Fail Their Annual Exams?
Or just worried that you might be making a crucial mistake when it comes to taking it?
1. RUNNING OUT OF TIME
The MOT Tester Annual Exam is only 60 minutes long which can cause a lot of unnecessary panic when you're trawling through paperwork to find the answers. Unfortunately it's quite common for MOT Testers to let the timer reach 0.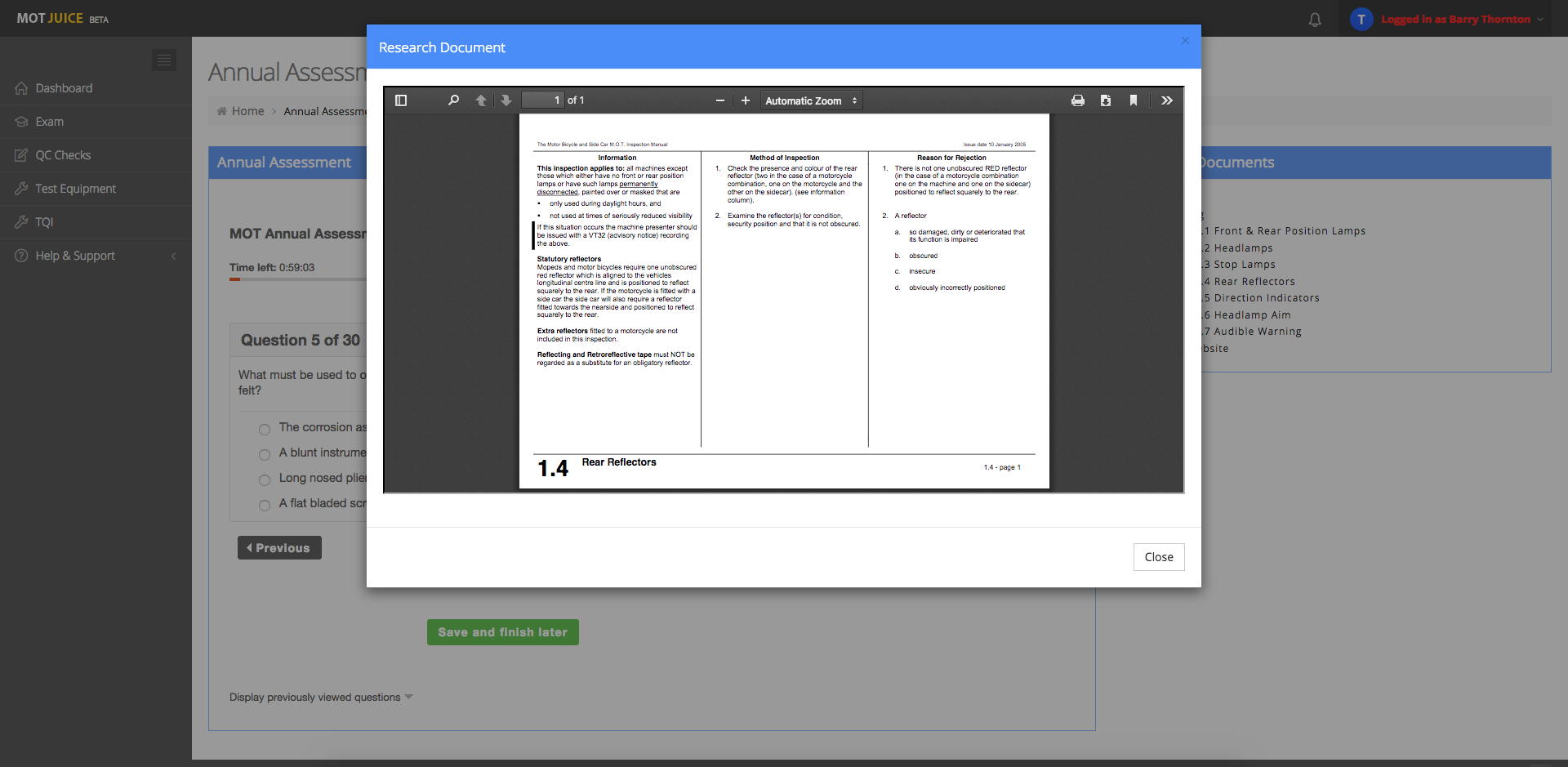 Here's a little tip from MOT Juice for if you find yourself in this situation…
MOT Juice has a list of all the research documents that you will need alongside the exam questions to help quickly refresh your memory if you get stuck. Simply click and open up the document which has been specifically tailored for your question.
Another handy trick is that you can pause the timer during your exam and come back at a later date to finish it off. Yes, you read that right, you can leave your exam and come back whenever you want and it will save all your progress up to that point. Perfect for when you get that dreaded mid exam mind blank!
2. FORGETTING TO STUDY THE CPD CURRICULUM
Another common mistake is forgetting to study the CPD Curriculum when you're carrying out the Annual Tester Training. Every year the DVSA set topics that MOT Testers need to swot up on as they will be featured in the exam. However, only 66% of the Annual Exam is made up of those topics.
The other 34% of the Annual Exam is based on special notices, updates to the testing scheme, previous year's topics and general practicing procedures, all of which come under CPD.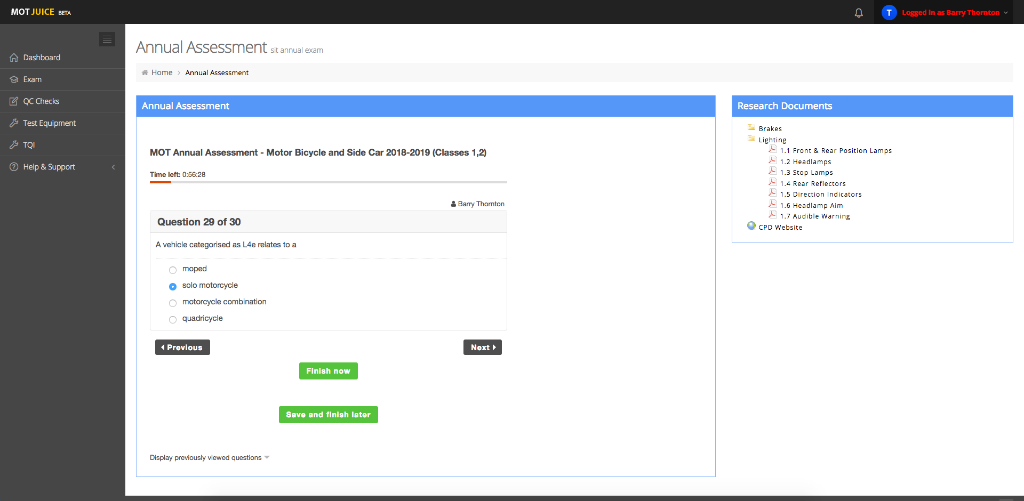 Although CPD training is not a requirement from the DVSA, 34% of the exam will be based around it. So if you want more of a chance of passing you better get revising.
But don't panic…MOT Juice has got you covered by providing the CPD Curriculum to MOT Testers with a new module every month.
FIND OUT MORE ABOUT CPD TRAINING
3. FAILURE TO REFRESH THEIR KNOWLEDGE OF THE CURRICULUM FOR PREVIOUS YEAR'S
34% of the Annual Exam could included topics covered in the exams from the past few years. This means instead of just focusing on the new topics you need to make sure you remember subject material you've covered before.
There will always be a couple of questions based around these previous topics. For example one question may be taken from last years exam and the next question may be from four years ago.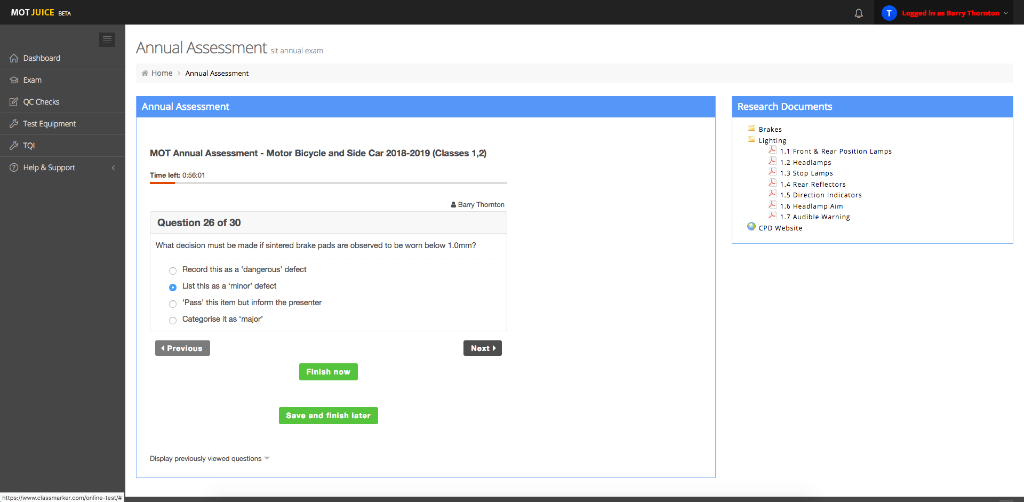 To help you out, MOT Juice covers previous year's topics in our CPD Training.
Furthermore, each MOT Tester's previous training topics are recorded on our software so that you can go back and manually review what you've learnt previously. This will ensure that you never get caught out again!
TRY OUT THE MOT JUICE SYSTEM DEMO
4. LACK OF TRAINING AND PREPARATION
It is common knowledge that a lot of MOT Testers tend to leave their training to the last minute, which means instead of months of preparation, they cram all their training in quickly hoping that they'll remember it all before the exam.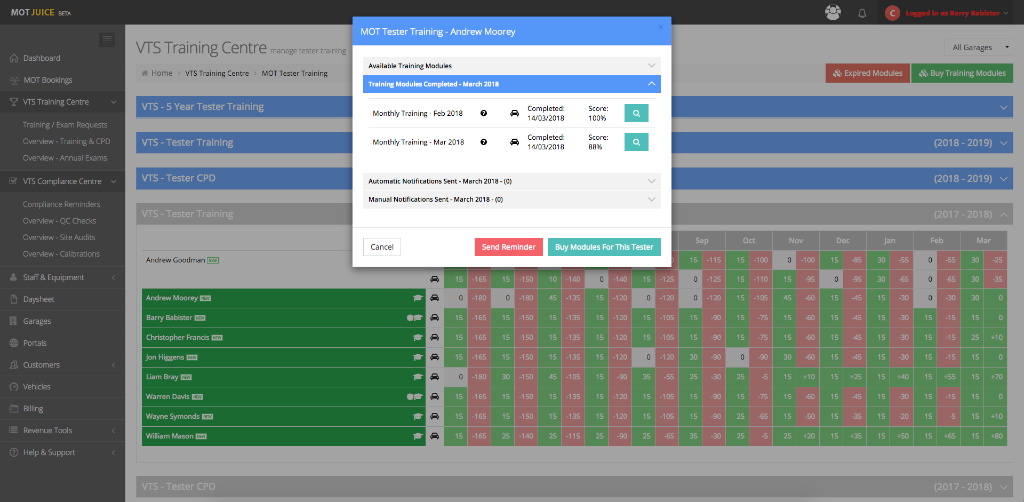 To avoid this last minute panic, the brainbots at MOT Juice cut down the training into 15 minute bite-sized pieces every month, which will make it easier for you to revise during the year leading up to your exam.
SIGN UP NOW TO START YOUR ANNUAL MOT TESTER TRAINING
5. FORGETTING THE DEADLINE
Most MOT testers don't realise that if they haven't completed their exam by March 31st, the DVSA will take immediate action.
The moral of the story is, get it done sooner rather than later!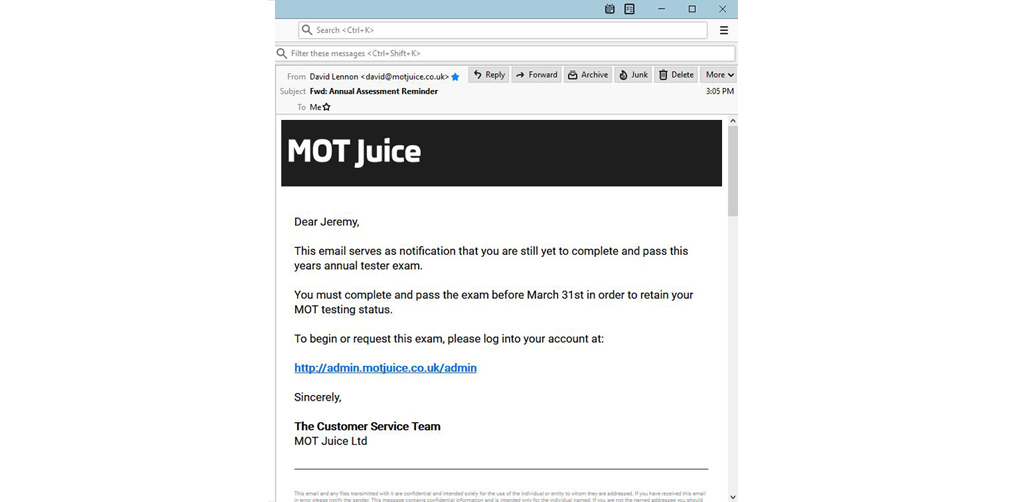 To make sure you never miss a deadline, MOT Juice lets you take the exam whenever you want throughout the year. This means you can take it when you feel most confident or whenever is most convenient.
But that's not all, MOT Juice also sends each MOT tester reminders for the Annual Exam, leading up to the deadline so you will never have to worry about forgetting again.
GET YOUR MOT TESTER ANNUAL EXAMS ONLINE NOW
To make sure you don't end up failing your Annual MOT Tester Exam for any of the above reasons, try out our free demo below to see how we can make your Annual Exam Training a walk in the park!
Need to talk to a human for more information? Lines open Mon-Fri 9-5 on:
01293 911120
Please follow and like us: