15 Minutes To DVSA Compliance!
So, you've got your Annual Assessment out of the way – but what about your 3 hours of compulsory DVSA Compliance MOT tester training?
But don't panic just yet!
If you start your MOT tester annual training today with MOT Juice, you can do one 15-minute module per day and you'll still complete your 3 hours of training on time, before the deadline. This means if you started today, in 12 days you'll be up to scratch. And you're only committing 15 minutes of your day to training, that's a tea break!
See how quick and easy our DVSA Training is by watching our quick video below!
SIGN UP TO THE EASIEST AND CHEAPEST TRAINING OUT THERE!
Sure this may seem extreme at the moment, but if you continue to use our DVSA training package after the deadline, you'll only have to complete one 15 minute module per month to stay up-to-date.
This means that this time next year you'd of already completed 165 minutes of your training, or if you're a keen bean, you may have finished your 180 minutes completely!
How fantastic would that be?
Reward future and present you today with our Essentials Training and Annual Assessment Package which features: 
3 hours of DVSA Training Modules
Annual Assessment
MOT Juice account
Automatic printable training records
online storage for all previous training documentation
All for just £69.99 + VAT! per year
BUY YOUR 3 HOURS OF DVSA TRAINING HERE!
We want you to feel comfortable with your training provider and that's why we are giving you FREE training modules to try out below.
There's no payment details needed and absolutely no obligation. What have you got to lose?
Easy as A, B, C…
A. Simply click on the button below and click login
B. The available training modules are on the right hand side of the screen highlighted in yellow.
C. Once you've decided which module you'd like to take, click on 'Take Training Module'.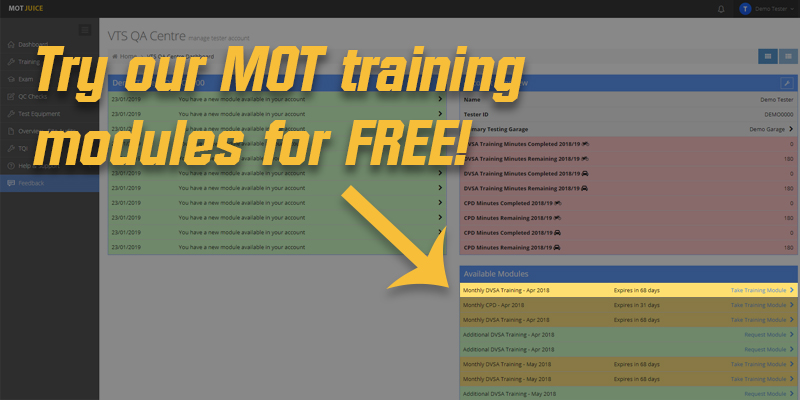 Need to talk to a human for more information? Lines open Mon-Fri 9-5 on:
01293 911120
Please follow and like us: