MOT exam and training a pain in the a***?
Find out how we can help you today with your MOT exam and training!
What if we told you that there is a system where:
– You save time by having your Exams, DVSA training AND your RAG score all in one place…
– You save hassle as everything is automatically recorded, no more tedious filing…
– You save money by saving time and hassle…
Typically we can save a garage owner/manager £3000 per year!
Using the MOT Juice system we believe you will easily achieve a saving of 1 hour per week of your own time that you currently spend managing your testers and DVSA requirements across your testing station. Therefore, if you value your time at a mere £60 an hour, (we know you are more valuable than that) then you have just saved £3120!
Sign up today and you will immediately make huge savings and begin to manage your business more effectively.
Keep your testers up-to-date with DVSA requirements. So you can easily track and trace all of your testers training throughout the year and spot poor performers.
Keep your testers earning you money. Our training is delivered online, to the tester in 15 minute modules every month. There is no need for off-site training above all keeping you profitable
No more mind-numbing filing. Automatically store all training and exam records in our secure online system which makes your life easier.
High quality MOT training. All the documents you need from the training manual are provided for each exam & training question.
And the greatest benefit of all…
Never fear a visit from the VE again! Because all documents are available and easily printable for when he walks in the door you will be prepared. As a result you will have no need to worry and may even look forward to it.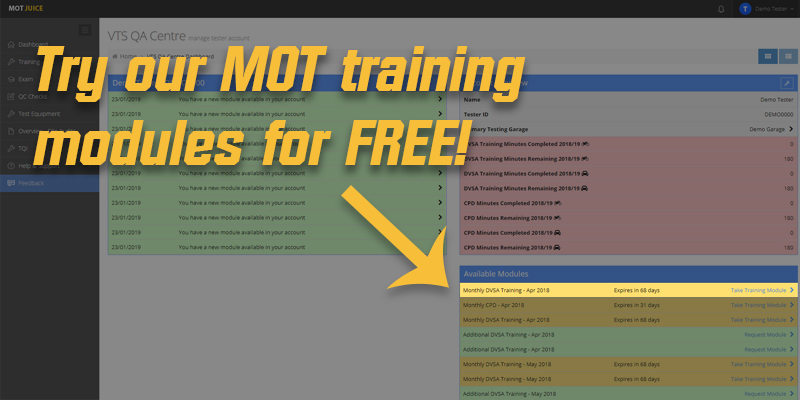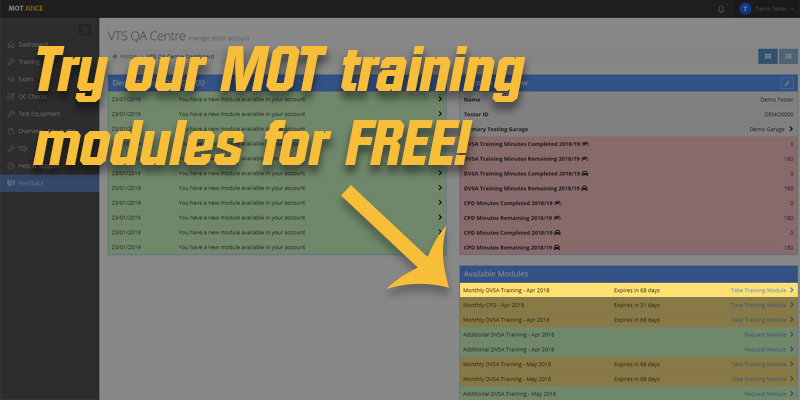 Free training modules
Need to talk to a human for more information? Lines open Mon-Fri 9-5 on:
01293 911120
For more information on how our system can help you and your garage please contact us on
01293 911120
or by email at
info@motjuice.co.uk
Please follow and like us: