MOT site assessment targeting by the DVSA is a serious risk to your business  
This blog contains vital information about MOT site assessment targeting.
What 6 things do you need to make sure you have in hand and a bonus pointer that may help you move your risk score from red to green.
If you think the DVSA is a toothless tiger think again.  With Test Logs and TQI at their disposal the DVSA can peer into your MOT site like never before.
What does it mean for you?
In the worst-case scenario, you could get a cessation notice on one or many of your locations. In the best-case scenario you will end up spending a lot of time implementing management practices across multiple sites to ensure compliance to DVSA requirements.  You'll be on the back foot and playing catch up.
What are the DVSA trying to achieve?
The DVSA want to raise standards within the MOT industry. They are targeting sites within larger groups. It has serious implications for owners, managers, AEs and anyone with responsibility for multiple MOT Centres.
How and why are the DVSA targeting multiple site businesses?
1 – Pinpoint the offenders
The DVSA are using the data they collect to pinpoint garages and testers who are most at risk of applying incorrect testing standards. Imagine what effective analysis of your test logs reveals about your business.
We'll assess every vehicle testing station (VTS) to consider its potential risk of non-compliance with the MOT testing service requirements, using a revised approach to risk rating.
Matters of Testing Blog – What we're doing to improve the quality of MOT testing – Chris Price 12/11/18
2 – Get the biggest bang for the DVSA buck
The DVSA want to find a single person of responsibility across multiple MOT sites. It means they can effect huge change with the least effort, i.e. if they can target the AE or AEDM of a multi-site business they can target all sites for which that AE or AEDM is responsible.
They have already given fair warning that application of penalty points will be to the letter of the law. This means temporary cessation orders will be applied.
"DVSA is now applying the rules for incorrect test standards for motorcycles more rigorously.

This is because motorcycles have fewer parts and missed defects on a motorcycle may have a greater impact on road safety than a similar item on a car or van.

For every failure item a tester misses when carrying out a test, 20 disciplinary points are given. 50 points or more in a single case can lead to short term cessation. This is shown in Appendix 8.6 of the MOT testing guide.
More rigorous application of rules for motorcycle MOT standards –Driver and Vehicle Standards Agency email – 28/11/2019
Yes, it might only apply to motorcycles for now, but it will not stop there and will begin to be applied across all testing.
Link here to other blog – Threat of action from the DVSA and what it means for you
3 – Leverage your pain in the DVSA's favour
Just imagine the effect of the DVSA ordering a cessation of testing at one or even all of the MOT Centres of a flagship dealer. In one fell swoop the publicity generated – this would probably not hit the press, but it might be difficult to keep it under wraps for long – would galvanise huge swathes of MOT sites into action.
That is why they are using targeted site visits. If the scalp could be claimed of a top 20 business the effect across the industry would be massive.
If they can pull it off, then good luck to them.  What would you be doing in their shoes?
MOT Site Assessment Targeting – 6 things to fix before for a better inspection result
In general, you need to make sure you are fulfilling your responsibilities to comply with the MOT testing service requirements.  We can help you across your business no matter the size. However, here are five things to fix right now we know the inspectors are checking for.
Specifically, we know they are looking for the following 5 elements and if you are vulnerable in any of these areas you need to fix them. Sure, the VE will find something else if they really want to but these have been flagged to us as 'hot topics.'
1.     Do you have a dedicated Site Manger?
The AE is required to appoint a Site Manger.
In July this year the DVSA published new guidance on managing an MOT Centre. One key element of this advice that we have seen being applied is the AE must appoint a Site Manger. Here is an extract from the DVSA website.
Employ site managers

You need to give someone the responsibility for the day-to-day running of a centre. This person is usually called a site manager.

You need at least one site manager per site, but you can decide to have more depending on the size of your business.

They must:
understand what they're being asked to do

know what they're responsible for

have a good knowledge of MOT testing standards

have the right skills to manage an MOT centre and testers
Manage your MOT Centre – Put management Systems in Place – section 4
The DVSA are particularly concerned when they see that site management duties have been given to an After-Sales Manager whom they know does not have the skills or the motivation for the job.  It is better to give the Site Manager role to your top MOT tester.
At least they will know and understand the world of MOTs.  They may need some coaching on management but if you chose the right person, we are sure it will work out and the VE will be happier.
2.     QCs – are they done, and do you have records
A quality control check lies at the heart of any inspection visit from a VE.
Your testers have an obligation to Quality Control Check each other and keep records and the AE is responsible.
Quality Control (QC)

An AE must implement an adequate system of quality management. A Quality Controller may be designated from the list of testers at the site or use a Third Party. A QC must hold a Level 2 qualification in MOT Testing or equivalent for the appropriate class and comply with the requirements for annual training and assessments. A QC may hold other MOT roles as well.
MOT Testing Guide – Section D Para 7.5
QC checks must be done correctly and often enough at each site.  Make sure effective records are being kept.
The DVSA recommend that an experienced tester with a through put of 2-3 tests per day (this is only 10 to 15 tests per week) should be QC checked once every two months.  However, if the tester has an increased through put or is inexperienced the frequency of the QC checks should be increased.
3.     TQI – tester knowledge and completion of TQI reviews.
Do your testers fully understand what TQI is and what it is for?  Here is the guidance from the DVSA
Overview of TQI
Test quality information is data about the MOT tests you've carried out. Use it as a starting point to monitor your standards of testing.

There are 2 types of information that you can get from the MOT testing service:

MOT test quality information – a summary of failure rates
MOT test logs – a record of every MOT test you've carried out
The Driver and Vehicle Standards Agency (DVSA) uses this information when preparing for site visits.
Using MOT test quality information: guidance for MOT testers
Check The MOT Juice Essential Guide to TQI and how to use it
Testers must also understand what their obligations are with regards to TQI and must fulfil them. Again, here is the guidance from the DVSA for the testers.
How to interpret the information
Your failure rate might be higher or lower than the site or national average. This does not automatically mean anything is wrong with your testing standard.

Review this data regularly and look into any unusual differences and record the outcome.

Take action if you have any concerns about your test failure rates. You should:
check the MOT inspection manual to make sure you're applying the correct standards

talk to other testers or the person responsible for test quality control at your testing station
Using MOT test quality information: guidance for MOT testers
Testers must review their TQI data on a regular basis.  It is available monthly, so we recommend monthly. They should record the results of their review and take action should they find the need. Indications of the need for more training or the need to check that the correct testing methods and standards are being applied can be shown by TQI data.
4.     Oil temperature recorded on the emissions printout
Each tester should record the oil temperature on each and every emissions print out for diesel vehicles.
When testing the emissions, the engine needs to be at least at 80 degrees centigrade or at normal operating temperature whichever is lower. The tester should check the engine temperature with an engine oil temperature probe or other approved device.
On vehicles first used before 1980 the engine should be at its normal operating temperature. You can check this from the temperature gauge, cooling fan switching on and off or by feeling hot coolant hoses.

Vehicles first used after 1980 vehicles must have an instrumented smoke test and it's important to ensure the engine is at least 80°C or normal operating temperature if lower, before carrying out the test. You should check the engine temperature with an engine oil temperature probe or other approved device
MOT Inspection Manual: cars and passenger vehicles – Section 8.2.2.2
Other approved device – EOBD or ROTI device
This 'dongle' plugs into the OBD port and will allow a reading of the engine oil temperature directly from the vehicle.  This is, in many garages, the preferred method of reading the oil temperature. Should it break, gets lost or end up in someone's pocket you need a backup.  This is the oil temperature probe.
Oil Temperature Probe
A temperature probe should be available in each bay just in case the EOBD or ROTI device fails or goes missing.
5.     Do not allow testers to take vehicle details from the job sheet.
Details of the car must be taken directly from the car and only the car.
When an MOT is logged to the wrong vehicle there is a huge amount of work for the DVSA to do to make a correction . It is a human error and should not happen if correct procedure is followed by each tester.
The temptation for a tester is to simply take the registration number from the job sheet.  This could easily result in recording the wrong vehicle to the MOT.
The DVSA issued a blog post on the Matters of Testing blog with a ton of helpful information.
Matters of Testing Blog – Hints and tips registering a vehicle
The VE is looking for a system or process within the MOT bay to ensure the tester is taking the details such as registration and VIN number from the actual vehicle.
Tester must perform pre-checks to a vehicle.
to ascertain the correct identification
ensure fitness and safety to test
so they may as well take the information from the vehicle.
Here at MOT Juice we have produced a simple MOT Pre-Checks Form we insist our testers use every time.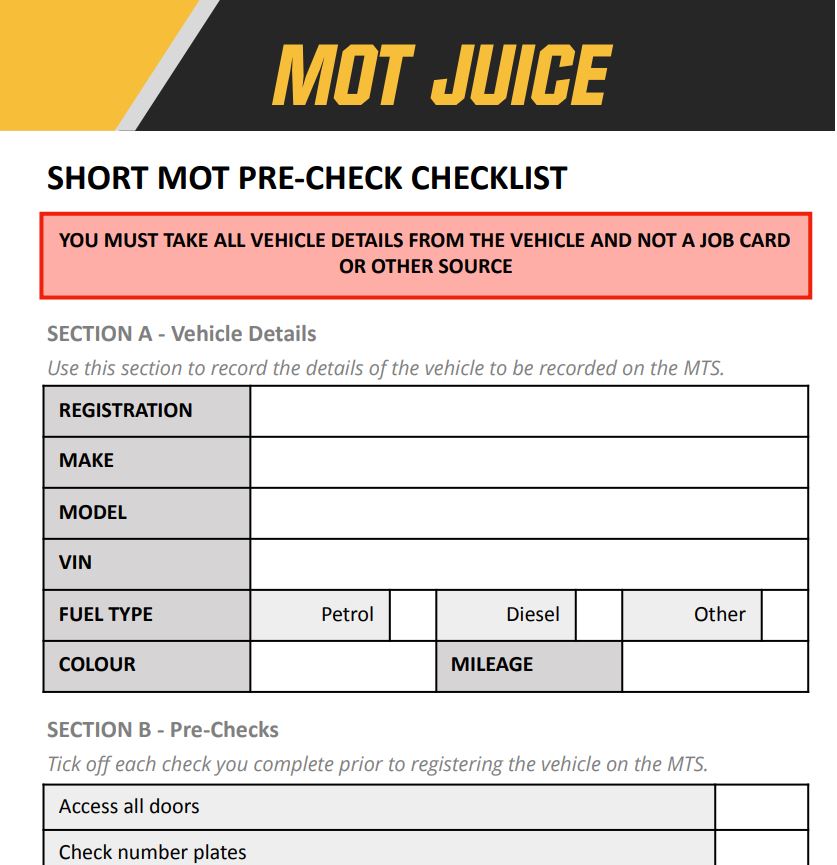 6.     The Cleaners rota
Yes, the cleaner rota.
Having proof that you have a system in place to manage cleaning is, I think, taken as an indicator that management systems are applied throughout the business.  We have heard of three separate occasions when an garage has been asked to show the cleaners rota.
It's a simple one to tick off the list and well worth doing so.
Bonus information – One key element that may move you from a red risk score to a green risk score.
Back to data analysis here.  The DVSA can see how long it takes for each individual tester to log off one test and start another. The question in their mind is how realistic is this time gap?
If the time gap is too short, then it is an indication that procedure is not being followed. Maybe the tester is using the job sheet to get the vehicle details! A big flag to the VE.
The tester should be following the correct procedures for your MOT Centre.  Although this routine may vary depending on the garage this is a good indication of the tasks that must be performed between logging one vehicle off and the next one on.
Tasks between MOTs
Finish the test and record mileage, reasons for rejection, brake results, sign off and print documents.
Hand the documents to the presenter
Drive the vehicle off the ramp and out of the bay – (what distance do the vehicles get driven)
Drive the new vehicle into the bay and onto the ramp – (what distance do the vehicles get driven)
Complete pre-checks and take the details from the vehicle
Log on to the MTS
As you can see this list contains quite a few elements and the amount of time it takes can change depending on the layout of the car park or pre-MOT storage area.
Our advice is to follow correct procedure at all times, but you could also time how long this process takes and make sure that MOTs by the same tester are not logged on too quickly.
I hope this blog has given you a clear understanding of the issues around site targeting and if it happens to you what you need to do to minimise the impact.
Good luck and if you need to have a chat please call us.
Please follow and like us: